|  History & Background  |  Unique Aspects  |  Negatives  |  Positives  |  Customer Experiences & Success Rates  |  Final Thoughts  |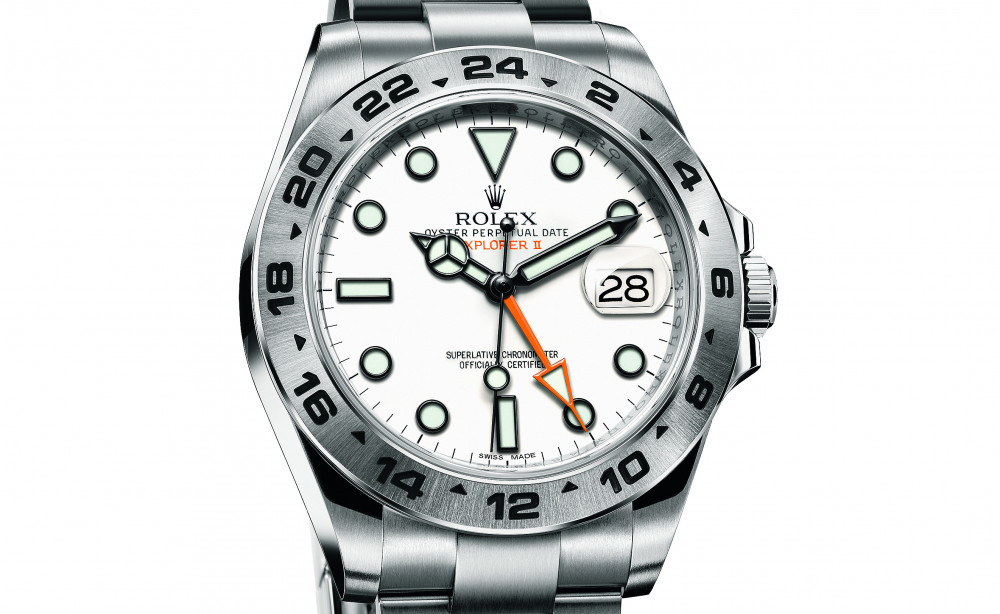 This Rolex Explorer II (216570) review is about going through absolutely every single feature and insight regarding the watch. To cover, all that is helpful to be aware of before deciding on it.
In that, we'll first embark on all the materials & unique aspects about it. After that, we'll go over its background and how it came to be. Then it will be the time for negatives and positives regarding it. And lastly, we'll look at the customer experiences with the watch, as well as how well it holds up when it comes to global success rates.
At its very core, this article was created with the idea in mind to paint as accurate and insightful of a picture about the second version of Rolex Explorer as possible, as well as help you save time. Thus, if there's an aspect or any facet here you do not manage to find but you'd love to learn more about, let me know. And I'll that as well.
A Watch Travelling To The Farthest Corners Of The Earth For 8+ Decades
I feel that there's no better place where to start with Rolex Explorer II (216570) than with some of its history. This is not to say that this will be the perfect history rendition, no, I do not plan for that (there will be a separate article for that). However, I feel that knowing the key facts does add to its overall flavor.
The first Explorer was introduced to the market in 1953 [R].
This was after a pre-market edition of it was the first to visit the very mountain top of Everest earlier that same year. At that time, such a watch was worn by both individuals who made that achievement – Tenzing Norgay and Sir Edmund Hillary (though the latter also wore a Smiths watch on the other wrist) [R, R].
But this wasn't exactly the first time that Rolex was being taken to extremest of hights and tested to the roughest of conditions. No, Rolex was sending their watches on the wrists of explorers on Himalayan expeditions since the 1930s [R, R].
Thus, if anything, the first Rolex Explorer was the result of 20 years long research, experimentation, and development.
With this watch, the main aim was to create the toughest timepiece known that could survive the craziest of conditions and guide the most capable of mountaineers. All while keeping the perfect time at temperatures as low as -60°C (-76°F) with 67% less oxygen than what's available at sea level [R, R, R].
But all of this was only further enhanced with the Rolex Explorer II in 1971 [R].
It added a number of new features to the table, making it the most comprehensive watch for explorers anywhere, even in the depths of caves and vastness of Antarctic. In other words, places, where it's often hard to tell daytime from nighttime but such can be crucial to survival [R].
And with so it has been the watch of choice for many scientists, discoverers, and adventurers throughout decades. For people, that have not only tested the limits of human capability while breaking records, but also those that help keep the delicate balance of the Earth's ecosystems in check and protect the planet [R, R, R, R].
As for visual appearance, although throughout the years it has had some tweaks and visual upgrades, in its essence it has remained the same. Whereas as for technical improvements, it has only benefited from every single Rolex advancement ever made [R].
Extreme Capability Is What Empowers The Explorer II The Most
When it comes to Rolex, I feel no other model of theirs is as capably diverse in resisting the extreme as the Explorer II is. In its very essence, it's the timepiece to travel with you to the edge of the world and back. And while out on that, never once failing to tell the perfect time.
Which brings me to the unique aspects and the materials used in the making of the watch and how they add to the overall capability of it.
The watch itself (the case and the bracelet) is made out of, what they refer to as, Oystersteel.
Oystersteel is a steel alloy specifically designed by Rolex. It's something that's completely unique to Rolex. As of itself, it belongs to the 904L steel family, which essentially means that it's stainless steel fully corrosion-resistant. Furthermore, it enjoys higher levels of luster and acid resistance than that which other very capable stainless steels (like the 316L) possess [R, R].
But manufacturing such steel is no easy (and inexpensive) task. To say that Rolex takes it very seriously, I feel it would be an understatement. To illustrate, to test the metal's quality they use an electron microscope that has the capacity to scan for and detect even the slightest structural and surface defects. In case of which the steel is not used in the making of the watch [R, R].
Whereas if no imperfections are there, the steel gets re-melted in vacuum to not only purify it but also eliminate any inclusions that in any shape or form may diminish the steel's corrosion resistance. Additionally, this process also eliminates any potential problems that may come up in polishing later down the road [R, R].
Ultimately, with proper steel like this, you truly are making a choice that as Rolex themselves put it, "will last a lifetime" [R].
The watch comes with the Caliber 3187. It's a perpetual, self-winding mechanical movement completely unique to the Rolex Explorer II fully created, developed, and manufactured by Rolex. To add to that, it's something that is approved in COSC tests (done by Official Swiss Chronometer Testing Institute) for accuracy and precision (so, a proper and certified swiss chronometer) [R, R, R].
The Caliber 3187 is created using the paramagnetic blue Parachrom hairspring and high-performance Paraflex shock absorbers. Which translates into improved and just overall amazing resistance to extreme conditions and shocks (more on that later) [R, R, R].
So that's kind of the behind the scenes type of thing that you can't visually see when you're just looking at the watch. Whereas what you can see is the aspect of this caliber providing date and an hour hand that let you keep track of either another time zone or, to the very least, the clear indication of whether it's morning or evening (in case the environment you're at can't report that reliably, like when being in caves or on the polar circle).
As far as the power reserve goes, it's said to do 48 hours while ensuring -2/+2 seconds per day accuracy. Which is very decent and you won't find a lot of high-end watches that can do better. In fact, that's quite rare [R, R, R].
Whereas a completely unique look in all of the word's facets is the dials.
The Rolex Explorer II comes with two options: the black or the white dial. Both are made out of Nacre, otherwise known as the mother of pearl.
The art of creation in this regard is so refined that they don't actually use any artificial colors to enhance the color of any dial. It's all-natural, no artificial anything. And with that comes a degree of uniqueness and distinctiveness as no two dials (even for the same watch model) can be made identical. Hence, no two watches are never really the same. They're completely one-off [R].
Negatives May Repel Some But Overall They're Subjective
Despite all the detail devoted to the making and despite how good it all does sound, there are a few that I feel could be regarded as negatives.
These mostly are aspects that just inherently come with the kind of watch that the Rolex Explorer II (216570) is.
So, here's a couple.
Rolex Explorer II's a Pretty Big Watch; Some May Dislike the Bulkiness
Rolex Explorer II is not a small watch. Being the 42 mm watch that it is it's not of the smallest bread. And I feel there is certain kind of folks who would definitely not appreciate that.
I mean, it may even come as a burden to certain people. For example, free-style rock climbers may find it big and rather heavy and possibly even troublesome to keep on their wrists while climbing. Also, guitarists or pianists with adventurous hearts may find that it puts them at a disbalance and thus, interferes with their craft.
Sure, in a matter of days or weeks you can easily adapt to the weight changes of your hand. And maybe even find that you prefer it that way. However, overall, I feel this is highly subjective.
I personally love the weight change. You can actually feel it being there. Plus, chances are you're an adventurous type (even if just mostly in the heart), so I feel you'll want to have it on preferably at all times.
However, you can always take it off for the specific activity you feel like it's hindering. Be that as it may, there won't be many.
Some May Not Fully Appreciate Its Looks
I personally find the Rolex Explorer II to be a beautiful watch. I mean, in my mind, the insane robustness of it and the fact that it can go with you almost anywhere (yes, even 100 meters underwater), simply demands respect.
But not everyone will see it that way. To that end, I've seen people critiquing its looks pretty heavily. It's bulky, clumsy, unstylish. I've seen some even say it's the worst looking watch out there.
I mean, I get it. It's not exactly the sleekiest of things. You can't really compare it to the likes of a DateJust 41 or Cosmograph Daytona.
Still, a huge aspect to consider in this case is that the Explorer II design was led by performance. Meaning, it's first and main objective is to be a watch that you can trust in any environment; to be something that won't fail you when you really hope it won't. And that, understandably, comes with certain kinds of compromises when it comes to the design (and looks in general).
But boy, does it deliver performance-wise.
I Believe Positives Easily Overpower The Fully Subjective Negatives
When speaking of positives, there's a lot to cover. While I do not promise to discuss every single one to not pester with the longness of the article, I do promise to go over the most iconic ones and the ones that I feel will matter the most (apart from some that we already somewhat covered).
Wherever You Choose To Go, You Can Keep The Rolex Explorer II On Your Wrist
The ultimate Rolex Explorer II characteristic and unique strength is the fact that you can take it wherever you choose to go or need to go. Meaning, it's more capable than the heights of Everest and the depts of the sea, as well as anything in between.
At the height of Everest, there's much less oxygen and much more temperature fluctuations. And that's a struggle for any standard watch as this means that the movement it uses has to be able to function in those conditions. Which many are not capable of doing. They will be off and unreliable. Whereas the Rolex of this review will still keep accurate time ensuring that -2/+2 sec/day.
The same will be true if you happen to plunge into the ocean. While forgoing below 100 meters (330 feet) you'll need something like the Rolex Submariner, anything up until that Explorer II will easily manage. Namely, if we go beyond numbers, this Rolex will serve you well for by far most leisure-related diving.
Plus, you never have to worry about wetting it when washing hands, spilling something on it, or taking it off before a swim (or getting pushed off a footbridge, I mean, who knows). Or even when your boating a river, you never have to worry about falling over and ruining your watch. It's water-resistant and you can easily let it grow on you making it essentially your full-time accessory.
To that end, I feel it's not only the ultimate adventurer's choice, but it's also extremely convenient and versatile for everyday use.
Oystersteel Is Not The Only Thing Contributing To Its Almost Indestructibility
Another extremely useful facet of the Explorer II of Rolex is the fact that it uses Oystersteel all and throughout. While we did go over this already, there are other things within the watch that contribute to its insane durability.
One such thing is the Parachrom hairstring. This is the part of a mechanical watch that essentially determines how accurate it is in terms of time [R].
This particular one is not only extremely stable when encountering temperature fluctuations, but also it's insensitive to magnetic fields (something that most other hairstrings only dream about) and more importantly, it's up to 10 times less affected when exposed to shocks if we compare it to other hairstrings [R].
Furthermore, there's also a thing referred to as Rolex high-performance Paraflex shock absorbers, which basically do exactly that. They improve the shock resistance further by 50% [R].
So as far as the accuracy and functionality of the watch go, there's far less worry (and potential damage to the timepiece) if someone or something accidentally bumps into it or if by chance and unintentionally you hit it against something.
On top of that, the Rolex Explorer II also comes with crystal (the transparent cover on the top of the dial) made out of sapphire that's fully scratch-resistant. Which will make sure that looking at it is always enjoyable and that there are no scrapes to be annoying as hell. Which, again, kind of adds to this notion that no one has to sweat it touching stuff (lightly or not that lightly) while they're going about their day.
Which can be such a nuisance if that's not the case and such a relief if it is.
But going back to Parachrom hairstring, it's not the only thing that's noteworthy of the 3187 movements.
The 24-Hour Bezel, Second Time Zone, And Instantaneous Date – An Extremely Versatile Combination
Rolex Calibre 3187 is a self-winding, perpetual movement capable of showing not just one time but two different times simultaneously. Meaning, you can have the watch keep your local time and a different time of another time zone.
For example, you can have it show your current time at West Coast (like New York) and the local time of East Coast (like Los Angeles) for you to always be perfectly aware of the business hours across the entire United States. Or you can use it to show your home time and the time of the place you frequently travel to for work or pleasure equally.
Then there's also the 24-Hour Bezel.
It's especially useful if traveling to or taking scientific expeditions to places where you can't really tell whether it's daytime or nighttime (caves, Antarctica, and places alike). It's also just a pleasant way in which the second time zone gets displayed (on the watch) as it makes it that it doesn't overlap with the other time. And so, both are more easily distinguishable and trackable.
Another pleasant thing of the 3187 Calibre is the fact that it does an instantaneous date after twelve a clock at night. It's not that typical, a little bit annoying, continuously slightly turning date that you find in other watches. No, you get the full display of the date at any given day which I feel creates a far more appealing look to the Rolex Explorer II as a whole.
Customer Experiences & Success Rates Highly Depend On People's Taste
It's no surprise really, there are the many scientists, mountaineers, speleologists, and other adventurers that all swear by the Rolex Explorer II. Hence, it's pretty much inherently a very well-received watch across the globe.
However, I don't feel this would be the most comprehensive Rolex Explorer II review if we weren't to also look at what other customers generally are saying about it.
To that end, taking a comprehensive look at every single customer review I could find, revealed that likely above 93.3% of people truly enjoyed it. Even more so because the percentages are typically higher than the estimated ones as people are more prone to reporting negative experiences than positive ones.
But it must be said that while the watch is an extremely well-received one, the likes for it are highly dependent on people's taste.
For example, the only profoundly negative review I managed to find criticized the looks of the Rolex Explorer II heavily (he didn't own one though). To his taste, this is one of the ugliest watches out there. Whereas the only other negative review I came across was one that had actually nothing to do with the watch itself but rather the seller. Namely, in that particular case, it was said that it's been beyond 3 weeks since ordering, and the person still hasn't received it.
If we compare, there's 14 times the amount of positive reviews (28 vs 2 at the writing of this article) and all of them essentially adore the thing.
A couple of people noted that the Rolex Explorer II has been beyond anything they've expected in a very good way. Others simply note that it's a great product and a beautiful watch, or even go as far as saying that it's a striking work of art. Whereas others emphasize that the watch in real life looks far better than the pictures you can find online.
Overall, one is definitely clear as day. None that have actually owned the watch have anything bad to say about it. I mean, even if there is an occasional thing, it hasn't been annoying enough to write a review about it. Which if you ask me, is a pretty good indication of how solid and quality it at its very core is.
Lastly, even people who have gone for previously owned ones praised its looks and all-as-one claimed that their particular ones visually appeared to be brand new. Talk about durability.
For Any Adventurer In Heart, It's A Watch For All Occasions
To sum, I feel that Rolex Explorer II is one of the most thoughtful, diverse, capable watches out there.
It's a watch that if you choose to you can never take off as it will serve absolutely anywhere and everywhere you plan on going. You never have to leave it home.
Going diving or accending a high mountain, nothing will really mess with its functionality. Plus, you can easily wear it to all kinds of social events and parties, as well as have it be your watch of choice for daily, everyday use.
Truth is, I believe Rolex Explorer II is one of the best choices if all you want is a single watch for all your ventures or events just in general. Furthermore, I believe it has the capacity to make anyone feel more adventurous in their being even if they're not necessarily traveling a lot.
Lastly, I hope this Rolex Explorer II review has been helpful and insightful in providing you the information you were hunting for. But if not, I'll be happy to hear any advice or suggestions in the comments on how to make it even better.
If you have no more than 30 seconds to spare, even a single line in the comments helps tremendously. And it will be greatly appreciated. Other than that, see you in the next one!